Home
Welcome to the 42nd Conference of the International Society for Clinical Biostatistics (ISCB)

Lyon, France, 18-22 July 2021
"The International Society for Clinical Biostatistics (ISCB) was founded in 1978 to stimulate research into the principles and methodology used in the design and analysis of clinical research and to increase the relevance of statistical theory to the real world of clinical medicine."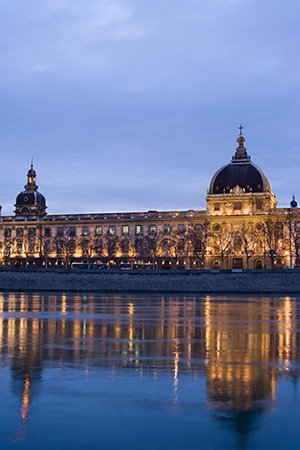 The 42
nd
Annual Conference of the ISCB will be held in Lyon (France), a city of 2000 years of history located at the confluence of two rivers (Rhône and Saône) and whose old centre is registered on the UNESCO list of World Heritage Sites.
The scientific community of Lyon and its wider region (Auvergne-Rhône-Alpes) is pleased to invite you to increase your scientific knowledge, share your personal experiences, exchange with specialists from all around the world, and discover Lyon. Besides the numerous scientific research and training centres it hosts (Universities, Ecole Normale Supérieure, Ecole Centrale, etc.), the city of Lyon offers also various cultural sites and events: Museums (Confluences, Gadagne, Beaux-Arts, Galo-Roman, Frères Lumière, Tony Garnier, Art Contemporain, Tissus, Imprimerie…), Theatres (Célestins, TNP…), Dance (Maison de la Danse), Music (Orchestre National de Lyon, Opéra National de Lyon), Gastronomy (Citée Internationale de la Gastronomie, Halle Paul Bocuse).
Each annual ISCB Conference is usually attended by hundreds of statisticians and biostatisticians with various backgrounds, levels, and professional experiences. It provides statisticians the opportunity to present, discover, and exchange their most recent theories, methods, applications, and experiences in several biological and medical disciplines. It will also be the occasion for fruitful meetings, discussions, and collaborations between researchers.
The Scientific Programme Committee (SPC) has invited Geert Molenberghs (KU Leuven University) as eminent conference keynote speakers. The introductory day (Sunday 18) will be dedicated to short courses in biostatistics. The Conference will then alternate sessions of oral communications and posters. The 8 invited sessions retained for 2021, will tackle (1) Causal inference in continuous time for dense longitudinal data from wearable devices, (2) Variance modelling for multilevel data and joint models, (3) Modelling the global spread of Covid-19 and impact of interventions, (4) Challenges and opportunities for learning from long-term disease registers, (5) The best of both worlds: combining deep learning and modelling, (6) Selective inference after variable selection, (7) Personalised Medicine with Dynamic Predictions, (8) Optimal design of longitudinal cluster randomized trials.
The 42
nd
Conference will be an opportunity to display and view posters related to the participants' works. This will give the participants unique opportunities to exchange with posters' authors on many recent or innovative biostatistical issues. Besides, the Conference will offer a Best Poster Award.
The Conference will take place on Rockefeller site of the University of Lyon, an Art Deco building that was recently restored and fully equipped for modern conferences. This site hosts the faculties of medicine and pharmacy and several research laboratories.
The Local Organising Committee (LOC) invites you to visit the Conference website to learn more about the scientific and social programmes, the registration and accommodation conditions, the sponsoring opportunities, and, especially, about the city of Lyon.
Pascal Roy
Chair
Local Organising Committee
Hélène Jacqmin-Gadda
Chair
Scientific Programme Committee