ISCB 2021
Du 18/07/2021 au 22/07/2021
Domaine de Rockefeller - 8 Avenue Rockefeller, 69008 Lyon, FRANCE
---
Frais d'inscriptions
Important note:
Member fees are applicable only if membership for 2021 is renewed at the time of registration. Membership status will be verified. For further information, please contact the ISCB Permanent Office at
secretariat@iscb.info
You can easily join the ISCB as a member, by visiting the online membership admission form available on the ISCB website
www.iscb.info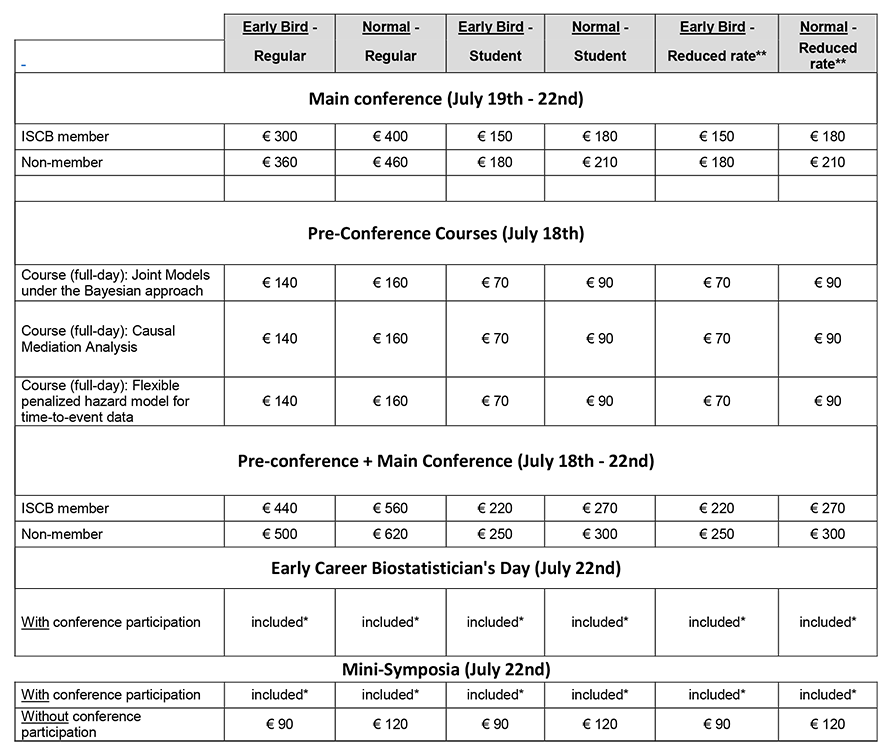 *Included = participation is included in the main conference fee, but prior registration is mandatory.
The reduced rate** is only available for people from low, lower-middle, and upper-middle income countries. Please consult the World Bank's list to check if your country belongs to any of these categories.
If you select the Pre-conference option, please check that the price of the option corresponds to your price category. In case of problem, please contact
iscb2021@univ-lyon1.fr
Registration process
Confirmation of registration and payment:
1. To register at the 'ISCB 2021' conference please go to the 'Pre-register'tab and create your account. You will receive an email with a link to confirm your account.
2. Please sign in with your email address and password. Go to the "Pre-register" tab, accept the terms of the contract and complete your registration.
3. Please select your rate, options and payment.
After payment you will receive an email confirming that we have received your payment. If you don't receive these emails, either your registration or payment was unsuccessful.
Should this happen, please contact
iscb2021@univ-lyon1.fr
Payment information:
All payments should be made in advance in Euro (EUR, €)
Method of payment:
- Credit card (VISA/Mastercard)
- Bank transfer (please specify the transfer reference:
"312/your last name"
)
- Order form (only for French institutions)
- Check
Invoice request:
The invoice will be issued when the payment is received.
If you need a proforma invoice before making the payment, please send the request to the address:
iscb2021@univ-lyon1.fr
after completing the registration process. Please do not pay before receiving the invoice.
Registration deadlines
May 15, 2021:
Early bird registration deadline
July 12, 2021:
Registration deadline
Cancellation policy:
Cancellation requests received by the conference secretariat no later than 15 days before the beginning of the conference will be refunded, minus administration costs (10%). No refunds will be issued for cancellations received after this time.